Nova Scotia Duck Tolling Retrievers... "Versatility in Red"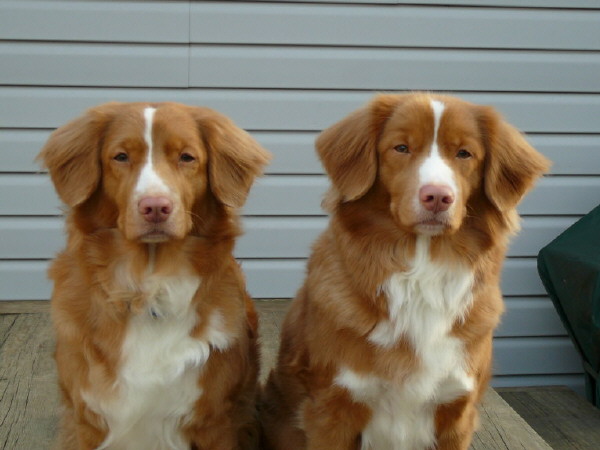 Apple didn't fall far from the tree! Zeppe and her daughter Apple on a nice March day.
Polo x Clara Puppies Due July 2017
Welcome to Caliber Tollers. We are a small hobby kennel located in St. Peters, Missouri. Our website is dedicated to the vesatile Nova Scotia Duck Tolling Retriever. Here you will find information about the Toller breed, our Tollers, and the activities we participate in with them - hunt tests, obedience and conformation. You may also view pictures of our dogs and some of the various Toller specialties and retriever field events we have attended. If you are interested in finding out more about the Toller breed in general, contact us. We also suggest that you contact the US Toller club's Breeder Referral to obtain a list of NSDTRC-USA member breeders.




Proud member of the Nova Scotia Duck Tolling Retriever Club (USA), the UKC Hunting Retriever Club and Gateway Retrievers HRC.
View over 700 Toller pictures in our online Photo Gallery.
When is the best time to take your puppy home?
This article debunks the myth of the 49th day.
---
Pedigree indicates what the animal should be.
Conformation indicates what the animal appears to be.
But performance indicates what the animal actually is.
-- Anonymous
Excerpt from the article:
This leads to another major idea I'd like you to remember when you leave here today: breeding to the standard will not preserve function. All it can preserve is appearance. That is rather obvious when you stop and think about it, because the qualities that make the dog good at its job are by and large not those described in the standard. Most breed standards were drawn up from dogs that were bred for function. What people did, and this is true for other breeds as well as sighthounds, was to obtain dogs from people who had bred them to do some particular thing. They looked at them and said 'This is what they should look like if they perform this function,' and drew up a standard accordingly; sometimes very precise, sometimes not. Then they bred dogs to look like those which did that thing, instead of breeding them to do it. That's fine if all they wanted was dogs with that look. But, if they expect those dogs to do what resulted in that look they are going to be disappointed.
---